What? A new project before the quilt is done? I know I know, some would think I can't finish a project. Well in this case, I
can't
finish. See, as I was through a fair portion of
free-motion machine quilting
my quilt, I noticed my machine started to have some tension issues. I thought maybe my bobbin case was coming lose, so I took it out. It looked fine. Then I thought maybe there were some loose threads that were clogging up my tension discs. I didn't find any. I adjusted my tension settings, changed needles, changed threads, changed bobbins....nothing seemed to work. So I've pretty much chalked this down to my machine being old and not made to do free motion quilting. Which is fine, but this also means I have a quilt that is only 3/4 of the way finished. I will figure out what to do with it later...
I was so frustrated with my machine that I thought I would try and learn to quilt by hand. So this seamed like the perfect time to teach myself how to make hexagons using the English paper piecing method. You can learn more about that
HERE
. I have been admiring the hexagons I have seen on different
sewing blogs
and
flickr pages
and figured I would teach myself. So I did! I came up with a design I wanted to make and then picked out some fabric.
I found the fabric at a
nice etsy shop
. I purchased 5" charm packs of the two fabric collections as well as some off-white solid cottons. The blue hexagons in the design will be hexagons made from all of these different patterns, randomly thrown together into the flowers.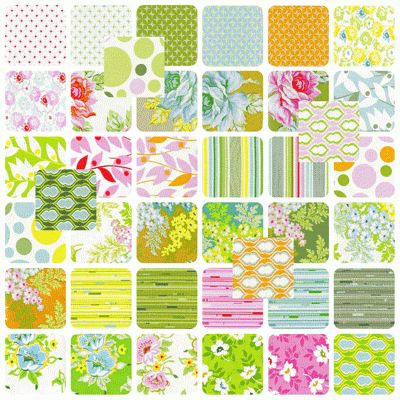 Heather Bailey, Nicey Jane
I plan on binding the quilt like
this
, using more hexagons flipped over to the back. And I plan on doing some
hand quilting
around all the hexagon flowers.
So far I have 30 hexagons finished (only 193 left to go!!). The nice thing about making the hexagons is they are transportable. I have a little oil cloth zipper pouch that I keep everything in and it comes with me. I took it with me on the airplane during our recent trip to Nauvoo, and I plan on taking it with me on my trip out to Utah in a few weeks. Hopefully by the end of the summer I will have somewhere around 100 or so hexagons finished (maybe more!).
I know it's going to take me a while to get this done, but I figure it will be a labor of love...and I will be that much more proud of the finished product!